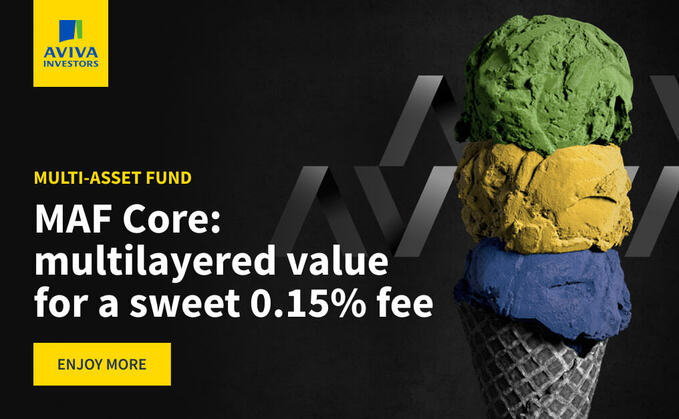 A successful multi-asset fund is not just a random collection of different securities; it encapsulates a set of convictions and ideas about corporate, economic and environmental, social and governance (ESG) trends.
The art of portfolio construction is to ensure these positions cohere in such a way that minimises risk and maximises opportunities to deliver resilient and cost-effective solutions for clients. Not all multi-asset strategies are created equal.
That's the thinking behind the Aviva Investors Core MAF range, which is driven by three key principles: multi-asset expertise, ESG integration and value for money.
Multi-asset expertise
We have a long track record and deep resources in this area - we've been managing multi-asset portfolios for over four decades, have a dedicated team of 45 professionals and can draw on the insights and expertise of Aviva Investors' capabilities across geographies and asset classes. Currently, we run around £98 billion in portfolios for Aviva and our external clients.
We don't follow the crowd by outsourcing our asset-allocation framework to a peer-group benchmark or third-party provider; instead, it is designed in-house by a large and dedicated global team with decades of experience. This frees us up to create an asset-allocation framework built on a more comprehensive set of methodologies than the average multi-asset solution.
To create effective diversification and enhance risk-adjusted returns, we divide assets into two categories: Growth and Defensive. Growth assets have the potential to drive the portfolio's growth - they include equities and riskier forms of fixed income. Defensive assets are held to protect the value of investments and manage risks: these include cash, government bonds and lower-risk corporate bonds.
Managing risk is an essential part of running multi-asset solutions. And whereas many other funds use volatility as the primary measure of risk, we seek a more holistic view. By incorporating tail risk into our analysis, as well as stress testing to better understand portfolio sensitivities to macro factors like inflation and interest rate risk, we can glean a better understanding of what really drives risk and return.
ESG built-in
Once seen as a "nice to have", ESG considerations have risen in prominence over recent years - and with good reason. A growing body of evidence shows incorporating ESG into investment decision-making not only makes the world a better place, but also enables fund managers to mitigate risk and identify new opportunities.1
We believe focusing on a company's short-term performance while disregarding factors such as its quality of governance, treatment of staff and record on climate change is misguided. Our approach to ESG is threefold:
Avoid the bad
Invest in the good
Engage and improve
On the first point, the MAF Core range applies the Aviva Investors baseline exclusions policy, which covers areas such as controversial weapons, thermal coal, Arctic oil, oil sands and tobacco, as well as companies deemed to have committed serious breaches of the United Nations Global Compact.
As for investing in the good, our global equity and sovereign bond investments aim to have a better ESG score than the underlying markets. MAF Core uses passive ESG-optimised strategies, which utilise our own ESG scoring system (based on a number of third-party data inputs). Furthermore, our allocation to global equities aims to deliver a lower carbon-intensity score than the underlying markets.
Our focus on ESG doesn't end when we make an investment. We hold the companies we own to account. At the heart of this approach is our conviction that impactful engagement with companies is a more powerful tool than exclusion - although we may decide to exit an investment if a firm refuses to improve.
There are still some deep-rooted problems investors can't tackle in isolation. That's why, in addition to investment integration and active ownership, we seek to influence policymakers and regulators to create more sustainable financial markets - what we call macro-stewardship. We have a dedicated team who focus solely on this.
Value for money
Value-for-money means something very different to today's retail investors. With more transparency around charges, performance, and the range and number of products available, they can move quickly should they perceive a fund to be underperforming, uncompetitively priced, or both.
To deliver value to our investors, it is important we can bring our ideas and approaches together in a streamlined, cost-effective solution. That's why the MAF Core range uses passive building blocks to keep charges down, with the ongoing charges figure capped at what we believe is a highly competitive 0.15 per cent a year.
Just like our MAF Plus suite of funds (which we have been running for over 12 years with an active investment bias), the five funds in the MAF Core range benefit from risk profiling. As you move from MAF Core I (the lowest-risk fund in our offering) to MAF Core V (the highest-risk fund), the allocation to growth assets goes up and the allocation to defensive assets goes down.
Understanding that investors want clarity on the potential performance they can expect as well as on charges, we also have a performance objective for MAF Core of 0.3 per cent of additional returns over its benchmark (annually, gross of fees, measured over three-year rolling periods) as well as volatility risk targets for the five funds in the range. Setting such targets makes us fully accountable for delivering the outcomes our investors expect.
Growth and resilience
With our in-house asset allocation model, well-resourced team and focus on ESG, we believe we approach multi-asset investing differently. By challenging the status quo, we can take a broader and more nuanced view to help us improve risk-adjusted returns for clients while delivering value for money.
That's as it should be. A good multi-asset strategy should provide diversification, resilience, and long-term growth - without excessive fees that cut too deeply into investors' savings or pension pots.
References
'Ethics and Alpha', Aviva Investors, November 7, 2018
Key Risks
Investment & currency
The value of an investment and any income from it can go down as well as up and can fluctuate in response to changes in currency and exchange rates. Investors may not get back the original amount invested.

Emerging markets
The Fund Invests in emerging markets, these markets may be volatile and carry higher risk than developed markets.

Derivatives
The Fund uses derivatives, these can be complex and highly volatile. This means in unusual market conditions the Fund may suffer significant losses.
Important Information
THIS IS A MARKETING COMMUNICATION
Except where stated as otherwise, the source of all information is Aviva Investors Global Services Limited ("Aviva Investors"). Unless stated otherwise any opinions expressed are those of Aviva Investors. They should not be viewed as indicating any guarantee of return from an investment managed by Aviva Investors nor as advice of any nature. The value of an investment and any income from it can go down as well as up. Investors may not get back the original amount invested.

The Aviva Investors Multi‐asset Funds comprise two ranges, each with five funds (together the "Funds"):Aviva Investors Multi-asset Plus Fund range comprises the Aviva Investors Multi‐asset Plus Fund I ("MAF Plus I"), the Aviva Investors Multi‐asset Fund Plus II ("MAF Plus II"), the Aviva Investors Multi‐asset Plus Fund III ("MAF Plus III"), the Aviva Investors Multi‐asset Plus Fund IV ("MAF Plus IV") and the Aviva Investors Multi‐asset Plus Fund V ("MAF Plus V") Aviva Investors Multi-asset Core Fund range comprises the Aviva Investors Multi‐asset Core Fund I ("MAF Core I"), the Aviva Investors Multi‐asset Fund Core II ("MAF Core II"), the Aviva Investors Multi‐asset Core Fund III ("MAF Core III"), the Aviva Investors Multi‐asset Core Fund IV ("MAF Core IV") and the Aviva Investors Multi‐asset Core Fund V ("MAF Core V").

The Funds are sub-funds of the Aviva Investors Portfolio Funds ICVC. For further information please read the latest Key Investor Information Document and Supplementary Information Document. The Prospectus and the annual and interim reports are also available on request. Copies in English can be obtained free of charge from Aviva Investors UK Fund Services Limited, St Helen's, 1 Undershaft, London EC3P 3DQ. You can also download copies from our website. Issued by Aviva Investors UK Fund Services Limited. Registered in England No 1973412. Authorised and regulated by the Financial Conduct Authority. Firm Reference No. 119310. Registered address: St.Helen's, 1 Undershaft, London, EC3P 3DQ. An Aviva company. 350663 - 30/09/2023.