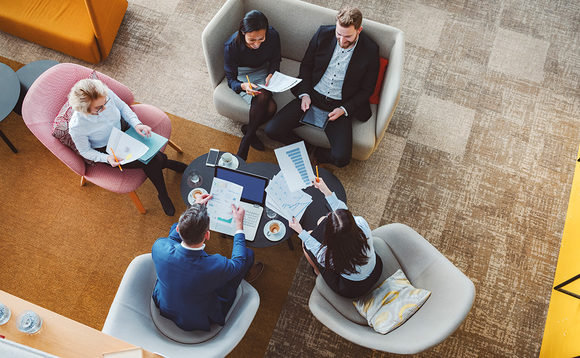 Falling behind on gender and ethnic diversity makes companies 27% more likely to underperform, according to management consultant McKinsey & Company.
Its 2019 figures also show that having more female executives gives businesses up to a 25% boost, while greater ethnic and cultural diversity can improve profitability by 36%.
"It is clear that having greater ethnic minority representation within an organisation, especially at senior levels, increases the diversity of thought and thus lessens the risk of organisational 'group think'," says Imran Subzwari, Head of Wholesale Strategy at HSBC Asset Management.
But despite most other research into diversity and inclusion in the workplace supporting this view, progress remains slow - particularly in some parts of the world.
While female representation on executive teams in the UK and the US as at 20% in 2019, McKinsey's figures indicate that executive gender diversity globally was only 15% at that time.
For the asset management industry, this throws up a number of questions, including: Why is this? And what can be done to boost diversity around the world?
The impact of differing regulatory frameworks
The extent to which employers - including asset managers - prioritise diversity and inclusion is often driven by regulatory initiatives. And in this area, some countries are streets ahead.
The Swedish parliament, for example, which has been more than 40% female for years now, has long been trying to establish a similar level of gender diversity in the country's corporate boardrooms.
Elsewhere, the French National Assembly took until earlier this year to vote in a bill requiring companies with more than 1,000 employees to ensure women hold 40% of top management posts by 2030, while the UK Financial Conduct Authority is still consulting on plans for London-listed companies to have 40% women, as well as one non-White and one female director, in their boardrooms.
The lessons to be learned
One of the advantages of looking at corporate diversity and inclusion at a global level is that it demonstrates what works - and what doesn't.
Nasdaq President Adena Friedman, for example, openly admits that her company's diversity proposal is inspired by Sweden's approach to executive gender equality.
Asset managers keen to improve diversity and inclusion on a global level can also look to companies that are leading the way in this field, for example by running campaigns offering employees the opportunity to self-identify across race/ethnicity, gender identity, sexual orientation, neurodiversity, and other demographic categories.
Other acclaimed programmes involve working with non-governmental organisations to develop a regionally tailored approach to diversity.
"Many of the issues garnering media attention today surround race and ethnicity within a Western context, but more can be done to understand and solve similar challenges faced by minority groups in other parts of the world such as Asia," Subzwari says.
This article is part of a series of articles on diversity and inclusion, produced by Investment Week in association with HSBC Global Asset Management. You can find the full series on a dedicated hub here.
This post was funded by HSBC Asset Management.