Revealed: All the winners at the Women in Financial Advice Awards 2018
A good night for Tilney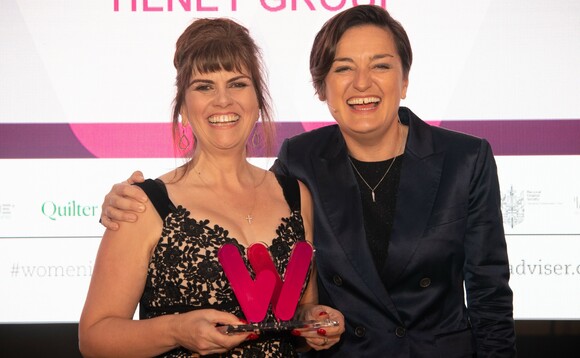 Tilney Group Chartered financial planner Eliana Sydes was named Financial Adviser of the Year at the inaugural Women in Financial Advice Awards on Wednesday evening at a gala dinner attended by almost 500 finance professionals.
Sydes, who had topped the regional South West & Wales Adviser category, narrowly beat the highly commended Sonia Wheeler, managing director of Essential Wealth Management, who had won the South East Adviser award.
In a good night for Tilney, Manchester office managing partner Ann-Marie Atkins won the North of England Adviser category while investment director Caroline Connell was named Woman of the Year - Investment. The full 2018 roll of honour can be seen below.
The Women in Financial Advice awards have been created by Professional Adviser and its sister publications Cover and Retirement Planner to celebrate the achievements of women working within the financial advice community as well as the broader financial services sector.
The awards attracted more than 800 nominations - a number that far surpassed the organisers' expectations - from which 26 shortlists totalling some 150 names were eventually reached. It was then up to the almost 30-strong panel of judges to make some difficult decisions to select the winners. The awards split into three broad categories - financial advice; broader financial services; and 'open'.
'Maximise potential'
Introducing the evening, Professional Adviser editor Julian Marr said: "Right from the start, we have been very clear these awards are not about 'men versus women' or whether a particular gender is more suited to a career or role in financial services - they are simply about recognising and celebrating the contributions of women in a sector where they continue to be under-represented.
"In highlighting the achievements of women already in financial advice or the wider financial services world, as well as recognising those who help to maximise the potential of women or are striving to bring about a more appropriate gender balance, the Women In Financial Advice Awards aims to help inspire more women to work in an already dynamic sector that, nevertheless, stands a long way short of fulfilling its true potential."
The full 2018 roll of honour is …
Financial advice categories
Financial Adviser of the Year
Eliana Sydes, Tilney Group
HC: Sonia Wheeler, Essential Wealth Management
Financial Adviser of the Year - London
Henrietta Oxlade, Radcliffe & Newlands
HC: Helen Howcroft, Equanimity IFA
Financial Adviser of the Year - Midlands & East Anglia
Hayley Tink, Almary Green Investments
Financial Adviser of the Year - North of England
Ann-Marie Atkins, Tilney Group
Financial Adviser of the Year - Scotland & Northern Ireland
Jayne Gibson, Insight.Out Financial
HC: Lesley Mackintosh, Independent Women
Financial Adviser of the Year - South East
Sonia Wheeler, Essential Wealth Management
HC: Kerry Nelson, Nexus IFA
Financial Adviser of the Year - South West & Wales
Eliana Sydes, Tilney Group
HC: Sian Thomas , Hargreaves Lansdown
Investment Adviser of the Year
Susannah M Gray, SORBUS Partners
Paraplanner of the Year
Sheetal Patel, Canaccord Genuity Financial Planning
Retirement Planner of the Year
Julie Lavers, A V Trinity
Protection Adviser of the Year
Poonam Khan, Lifesearch
HC: Krystle Skelton, Cura Financial Services
Mortgage Adviser of the Year (inc Equity Release)
Nicola Dugan, London and Country Mortgages
Financial services categories
Woman of the Year - Investment
Caroline Connell, Tilney Group
Woman of the Year - Retirement
Kate Smith, Aegon
HC: Karen Phillips, JLT Wealth Management
Woman of the Year - Protection
Rose St Louis, Zurich
HC: Vicky Churcher, AIG Life
HC: Emma Thomson, LifeSearch
Woman of the Year - Mortgages (inc Equity Release)
Sarah Grace, Sarah Grace Mortgage
Woman of the Year - Platforms
Verona Smith, Seven Investment Management
HC: Caroline Miller, Standard Life
Woman of the Year - Fintech
Samantha Seaton, Moneyhub
HC: Philippa Hann, Clarke Willmott
Woman of the Year - Adviser Support Services
Cathi Harrison, Para-Sols
HC: Farida Hassanali, Jarrovian Wealth
Woman of the Year - In-house Ad Support
Andrea Solana, MASECO Private Wealth
HC: Marie Calvin, 1825 Financial Planning
HC: Amanda Curwood, LifeSearch
'Open' categories
Mentor of the Year
Marian Evans, CFS
Role Model of the Year
Louise Oliver, Piercefield Oliver
HC: Hayley Tink, Almary Green Investments
Rising Star
Laura Thursfield, Mazars Financial Planning
Team Leader of the Year
Hayley North, Rose & North
HC: Jo Campbell, Para-Sols
HC: Fiona Oliver, Partners Wealth Management
Most Inspiring Returner
Cathi Harrison, Para-Sols
Social Media Influencer of the Year
Kathryn Knowles, Cura Financial Services
HC: Rose St Louis, Zurich
Contribution to Gender Diversity
Nucleus Financial
HC: Jane Goodland, Quilter
Back to Top